Reception

Home Learning

Home Learning Guidance – Reception: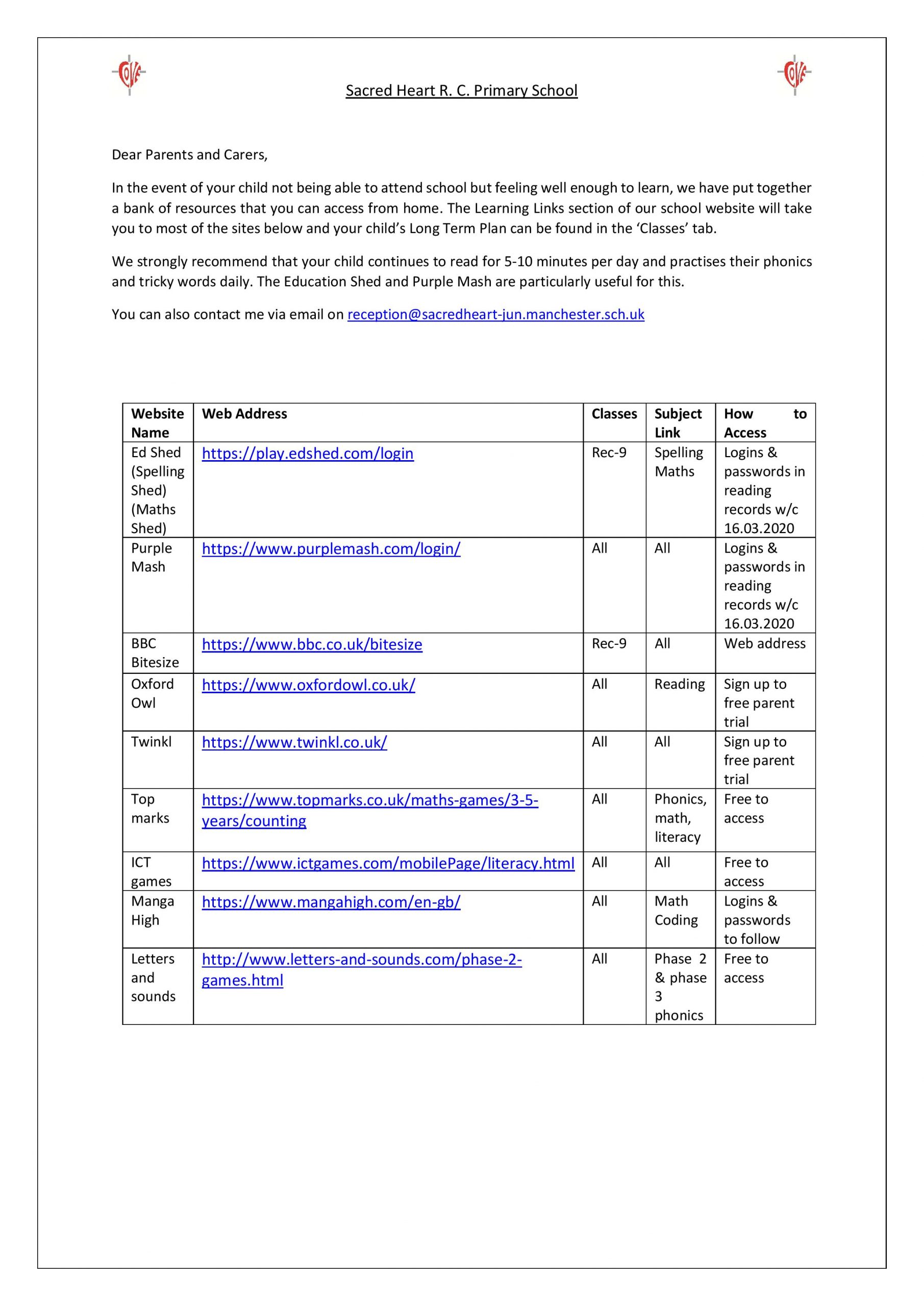 Home learning resources:

Here are some useful collections of videos for you to watch at home:
Maths: https://www.youtube.com/playlist?list=PL05JsEw6Ki4dlsw5t52meuFSzHWp5mMyJ
Story Time: https://www.youtube.com/playlist?list=PL05JsEw6Ki4fczRpuoLG4AMnzaIX34Ouk
Phonics: https://www.youtube.com/playlist?list=PL05JsEw6Ki4fBPpgrY7YRP4Ks2JDso4eK
Handwriting: https://www.youtube.com/playlist?list=PL05JsEw6Ki4eOgF7O3A6Winb6BgRCMVW5
Literacy: https://www.youtube.com/playlist?list=PL05JsEw6Ki4f7FtSTTvZNyc-9JAB7Dxxb/a>
A selection of fantastic video books can be found here: https://www.worldbookday.com/big-little-book-corner/.
If you are having difficulty accessing home learning please email the class teacher at:
reception@sacredheart-jun.manchester.sch.uk
Additional online lessons can be found on BBC Bitesize and from Oak National Academy:
https://www.bbc.co.uk/bitesize
https://www.thenational.academy/
Hungry Little Minds – Activities for Kids https://hungrylittleminds.campaign.gov.uk/.
Mrs Botham's Reading Workshop powerpoint can be found below:


Activity Passport
Last academic year, the Department for Education developed an activity passport for each year group, designed simply to help children to enjoy the world around them. The full passport can be found here but we have made some edits so that only the activities that can be easily accessed from home are included. Later in the year, when all is calm once more, we will share with you the rest of the activities which include having fun in the outside world.
There is no expectation for you to complete all or, indeed, any of these activities but, as parents ourselves, we know that sometimes being at home with our families for long periods can be stressful. Whilst we want to do everything we can to support your child's formal education in these uncertain times (see the Home Learning Tasks document and the 'Learning Links' section of our website), we also think that it is important to try to make the most of the opportunity to slow down, enjoy our children's company and do all we can to make this unprecedented experience as positive as possible.
The Parish Facebook page ('Sacred Heart & Saint Francis of Assisi Parish') is a good page to follow and shares useful and uplifting prayers and information. There are also several ways of watching Mass at home should you be unable to physically attend church:
https://mass-online.org/daily-holy-mass-live-online/
http://stvincentsbolton.org/live-stream/
http://www.walsingham.org.uk/live-stream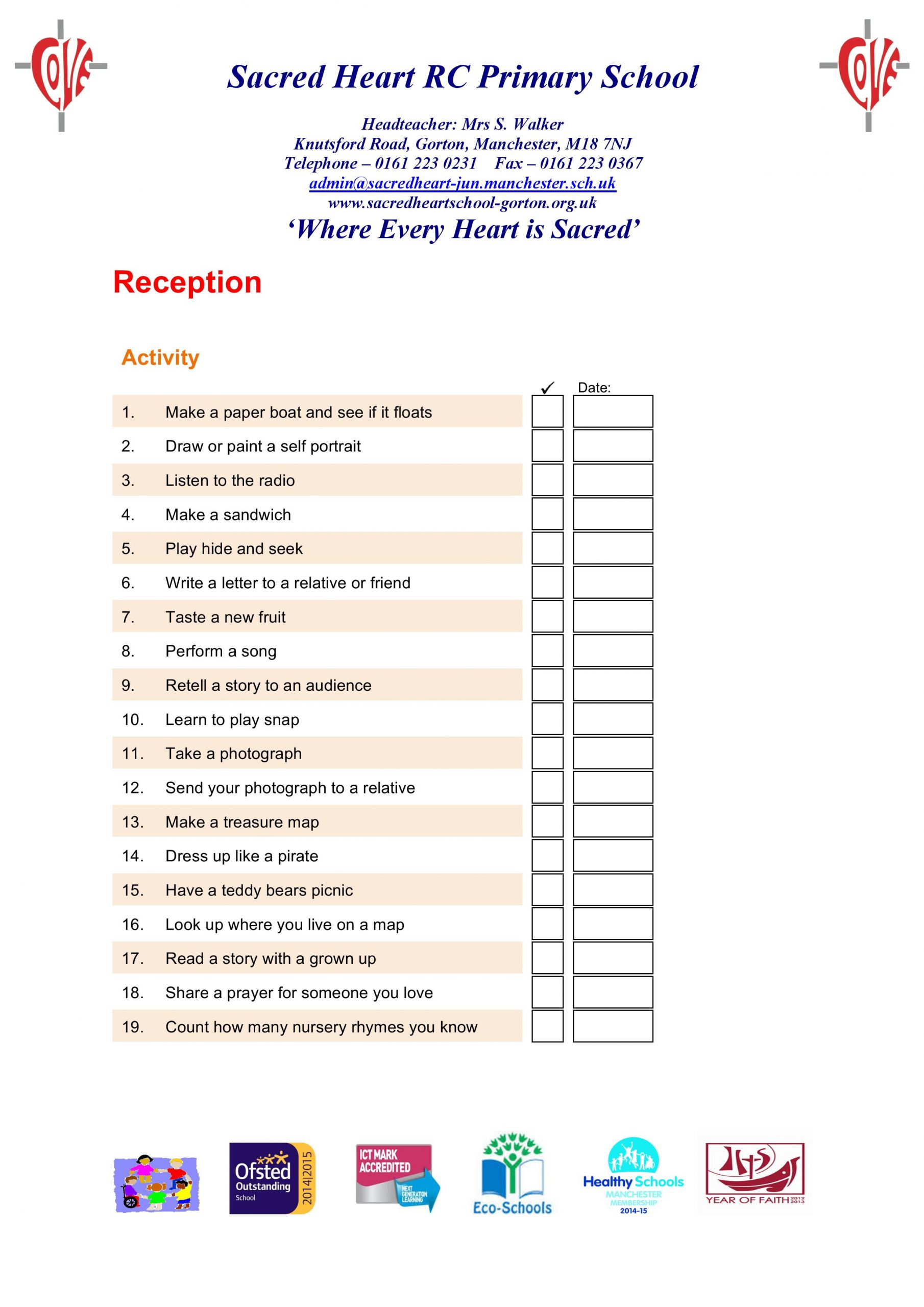 Here are two lovely prayers written by two of our Reception children about the current situation: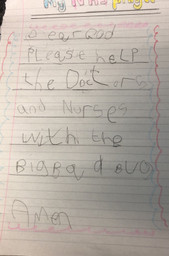 Reception Planning Documents
Reception Information Letter for Parents September 2019
Reception Key Questions Spring 1
The New Curriculum End of Year Expectations
Reception 2019-2020 Long Term Plan